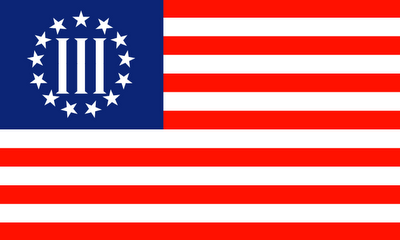 For those of you that are not aware of the existence of what some people call the "Three Percent" movement. They are, for lack of a better description, quasi-revolutionary. I wouldn't say fully, because while they may preach "keep your rifle ready and your powder dry", they aren't out looking to start assassinating public officials or waging open war against the government. Yet.

And I think that they serve a very good purpose. They are a fountain of information regarding gun laws, the abuse of police powers, and trying to gauge where politicians lie on certain issues. And , God forbid, a shooting war did start in this country between government agents and armed citizens, I'd probably be supporting them however I could. Politically speaking, they are either libertarians or "conservative republicans" (I still don't really understand what this means).

But there is another side to the 3% guys and gals that ... concerns me. In fact it is a concern that largely mirrors my concern with "libertarian" groups in general. While most of the "Threepers" I've come into contact with have been passionate, intelligent people. There are a few ... "moonbats" that exist.

Now those of you that are reading this that consider yourselves part of the 3% crowd, please hear me out.

I very much enjoy some of the financial and economic discussions. The work on gun rights and political activism for the Second Amendment is priceless. But get the raving loons out of your group! I don't mind people talking about how much the government sucks, I don't mind the discussion about rights. What I mind is people who:

Go flying off the hilt about the New World Order and all this other random conspiracy crap, that is a COMPLETE violation of Occam's Razor.
While I don't object to people holding their religious values. I'm frankly sick and tired hearing that "The END TIMES are nigh!" No one cares, people have been screaming that for ... millennia. I do mean millennia, since the early 100s AD certain Christian groups have been calling for the end times, you haven't gotten it right yet. Please stop treating the most confusing book in the Bible like you understand prophecy, no one's gotten it right yet.

I have seen several examples of BOTH of these points of view on blogs that are backing or sympathetic to the movement. (Hell, I'M sympathetic to the movement).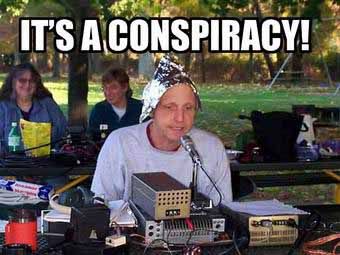 But this presents us with a problem. It's a problem that libertarians have struggled with: how do you get these people out of the party when one of your founding tenants is "free association"? The libertarians have their share of UFO chasing, NWO fighting, tinfoil hat wearing, conspiracy nut cases. And frankly it hurts the movement. It hurts the movement a lot because morons like that end up on TV and the American people go "What the hell? I don't want to be part of this group!"
So I pose the question to the Three Percenters:
What are you all going to do?
Please keep in mind that I'll back most of you. In fact, I do my best to try and provide a bit more economic education to some of the other blogs that support the 3% movement. But you all still have some kinks to work out. Please consider this constructive criticism.